Preventative Maintenance & Safety Membership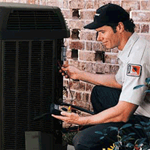 With regular maintenance you will prevent small problems from becoming big problems and ensure optimal performance of your comfort system. We also offer annual service agreements, which can reduce the cost of a Performance Tune-Up.
Regular maintenance will:
• Provide longer lasting equipment
• Reduce utility bills
• Reduce repairs
• Provide a more comfortable indoor environment
• Protect your investment
Services Provided During Bi-annual Maintenance & Safety Check:
• Remove & Clean Burners
• Clean & Test Flame Sensor
• Check Gas Pressure
• Thoroughly Inspect Heat Exchanger
• Check Gas piping for Leaks at Furnace
• Test Running Capacitors
• Test Electrical Components
• Tighten High/Low Voltage Wiring
• Inspect Coils & Chemically Clean
• Test Thermostat Operation
• Test all Safety Devices
• Check for Potential Problems
• Test Amps/Volts on all Motors
• Inspect Blower Wheel & Assembly
• Inspect Filtration System
• Clean Condensation Drain Lines
• Inspect Flue Piping
• Check Freon Levels
• Remove Debris from Inside Outdoor Unit
Click Here For Details on our Preventative Maintenance & Safety Membership Agreement
Interested? Click Here For our Preventative Maintenance & Safety Membership Agreement. Please print this form and fill it out to join our program.